What Are Dental Implants?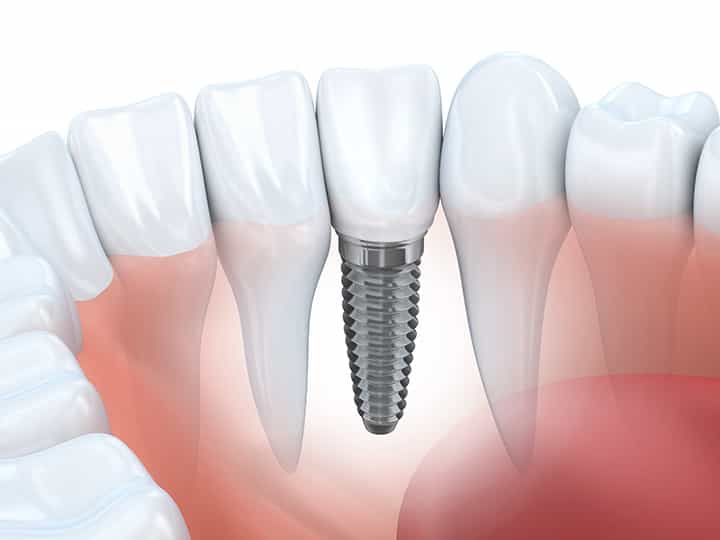 A dental implant is a metal frame or post that is surgically placed by Dr. Hoang into the jawbone beneath the gum line. Once the implant is positioned, a replacement tooth is mounted onto it. Because dental implants are fused to the jawbone, they provide stability and support for the placement of artificial teeth.
When Are Dental Implants Used?
Dental implants can replace a single tooth or multiple teeth. Whether the implant is for an individual crown, dentures, or a bridge, patients experience a natural feel that allows them to eat and speak comfortably without worry.
In the case of bridges and dentures, implants eliminate the worry of shifting or slipping in the mouth.
Dental implants are also an excellent option for those who are unable to wear traditional dentures due to discomfort, poor ridges, sore spots, or gagging issues.
For patients missing many teeth, implants provide an excellent alternative to ordinary bridges which need to be attached to teeth on either side of missing teeth. With dental implants, no adjacent teeth are required for placement.
Who is a Candidate for Dental Implants?
To be eligible for dental implants, patients need adequate bone in the jaw and healthy gums, which are both necessary for supporting implants.
Additionally, patients must commit to regular dental visits and meticulous oral hygiene to ensure long-term success.
What is the Cost of Dental Implants?
Compared to other methods of tooth replacement, dental implants are more expensive. Many insurance providers only cover around 10 percent of the cost. The American Dental Association endorses two types of dental implants as safe:
1. Endosteal Implants
Endosteal dental implants are surgically placed into the jawbone. After placement of the implant, time is allowed for the gums to heal. During a subsequent procedure, the post is connected to the implant. Lastly, the artificial tooth is attached to the post. Multiple artificial teeth are attached either one at a time or grouped on a denture or bridge.
2. Subperiosteal Implants
Subperiosteal dental implants are metal frames placed onto the jawbone just below the gum line. As the gums heal, the metal frame affixes to the jawbone naturally. Posts are then placed onto the frame, protruding through the gum. Similar to endosteal implants, artificial teeth are then mounted onto the metal posts.
Oral Hygiene Tips for Dental Implants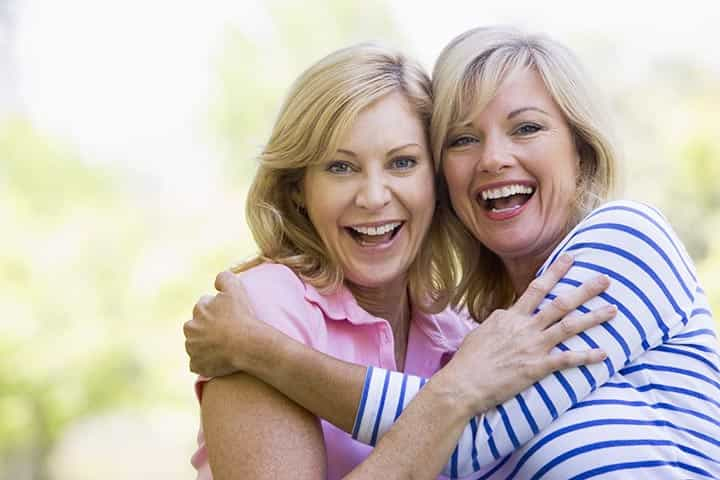 Most dental implant procedures are successful; however, to ensure their longevity, certain steps must be taken.
Practice good oral hygiene – To maintain dental implants, brushing twice each day and flossing once daily are important. For best results, use an interdental brush that slides between teeth. These also help keep areas around implants clean.
Don't smoke – Smoking weakens bone structure. For this reason, over time, smoking contributes to implant failure.
Get regular dental visits – Regular cleanings and twice-yearly exams ensure that implants remain in excellent condition.
Avoid hard foods – Do not chew hard foods like hard candy or ice. Doing so can break artificial teeth and cause damage to natural teeth.
The closest substitute for natural healthy teeth is a dental implant. They make it possible to smile, eat, talk, laugh, and even kiss without worry. Dental implants are an excellent option at Nova Dental Center in Springfield VA, which can help you live life your way with confidence!
Dental Implants Periodontist - It's Time To Get Your Smile Back!
Dental Implants in Springfield VA
The price of dental implants can vary greatly, just give us a call to learn more
The dental implant procedure is simple and has a very high success rate
Dental insurance can make the costs of dental implants much more affordable, especially for full mouth procedures
Dr. Binh Hoang is a local, top-rated implant dentist, he will explain all of your options in detail during the initial exam
If you are having problems with your current dental implants, we can help fix, repair or restore them
We are one of the best dental implant offices in Fairfax County, based on Google reviews
At Nova Dental Center, we strive to provide our patients with the best and most complete dental care.