At Nova Dental Center in Springfield, Virginia, our cosmetic services can improve how you look and how you feel. Strong, healthy teeth are important for your physical health, and a bright, beautiful smile is vital for your self-esteem. Our dentist, Dr. Hoang is skilled in a variety of cosmetic procedures that can completely transform your smile.
Cosmetic Procedure 1:
Teeth Whitening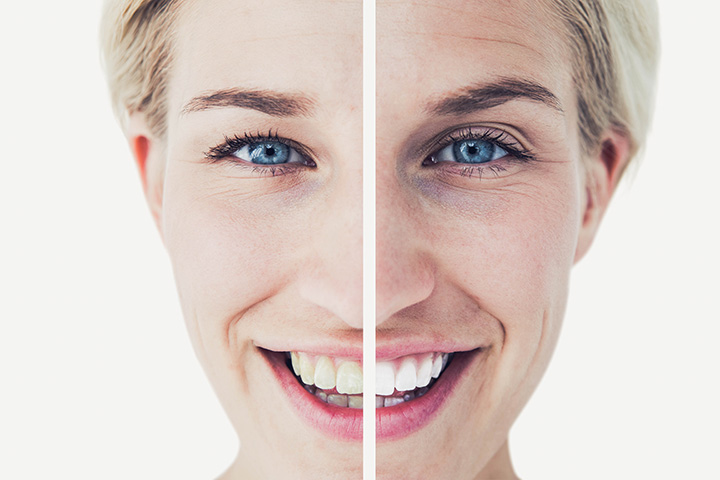 After your routine checkup and cleaning, you may notice areas of discoloration on your teeth. These stains are the result of consuming deeply colored foods and beverages, using tobacco, and/or certain medications. Fortunately, dark spots or overall staining can be removed from dental enamel to reveal a whiter, brighter smile. The simple whitening procedure involves placing rubber devices in the mouth to collect excess saliva before a hydrogen peroxide solution is applied to the teeth. Water is then gently applied to initiate a foaming chemical reaction that lifts off unsightly discoloration. After the procedure, your teeth will be visibly whiter. You can maintain your brighter smiler for as long as two years by following simple dietary guidelines that we share with you during your visit.
Cosmetic Procedure 2:
Covering Unsightly Scratches on Teeth

Small chips and tiny scratches can ruin an otherwise beautiful smile. If you suffer from these issues, Dr. Hoang can create a custom bonding substance that matches the color of your enamel and apply it to your damaged tooth or teeth. Once applied, it can be polished to look and feel just like your natural tooth enamel. The bonding material also protects the underlying layers of the tooth.
Cosmetic Procedure 3:
Customized Composite Resin Veneers
For damage that goes beyond a minor scratch or small chip or that is on a highly visible tooth, a customized composite resin veneer is the answer. Veneers are thin restorations that attach to the front of a tooth to cover imperfections. Veneers can also be used to alter the shape of a tooth to give teeth an even, well-matched appearance.
Cosmetic Procedure 4:
New Color-match Fillings
If you have silver (amalgam) fillings that make you shy to open your mouth or self-conscious about smiling, our dentist can replace old amalgam fillings with a new color-match filling material so that filled cavities are unnoticeable and blend right in with your teeth.
Cosmetic Procedure 5:
Dental Crowns for Damaged Teeth

For severely damaged teeth or for teeth that need root canal therapy, dental crowns are the best solution. Teeth with very large cavities or broken teeth can benefit from a crown, as well. A dental crown completely covers the tooth once it is repaired. That provides support and protection for the tooth so that you can eat and drink normally. With proper dental hygiene, dental crowns last for many years.
Cosmetic Procedure 6:
Dental Bridges with Crowns

If you have missing teeth, then it is essential to replace them. One option to do that is with a dental bridge. This dental appliance is customized to provide a precise fit and attached to surrounding teeth. The bridge is designed to hold custom-crafted crowns in place to give you a perfect smile.
Cosmetic Procedure 7:
Dental Implants

For some patients, wearing a dental bridge is not desirable. In those cases, dental implants can be installed for a more permanent solution to the problem of missing teeth. In some cases, prescription medications are prescribed to strengthen your alveolar (jaw) bones. During the implant procedure, metal posts are inserted into the jaw bone so that a customized dental crown can be placed. This procedure usually takes multiple visits, as there is healing time after the posts are installed so that they can fuse to the jaw bone.
Regardless of what your cosmetic dentistry needs is, here at Nova Dental Center, Dr. Hoang and his friendly, welcoming staff are eager to help you achieve the beautiful smile you want! Call our office today at (703) 256-2605 to schedule your consultation. We look forward to serving you!
Cosmetic Dentist - Get The Smile That You Deserve!
Call today & learn all about our affordable cosmetic dental services

Get the best looking smile with our top rated procedures

Dr. Hoang is a highly rated and trusted local cosmetic dentist

We will guide you through the process and explain all of your options

We can provide you with stunning before and after pictures of actual patients

Costs for cosmetic services can vary greatly based on individual needs, just give us a call to learn more
At Nova Dental Center, we strive to provide our patients with the best and most complete dental care.